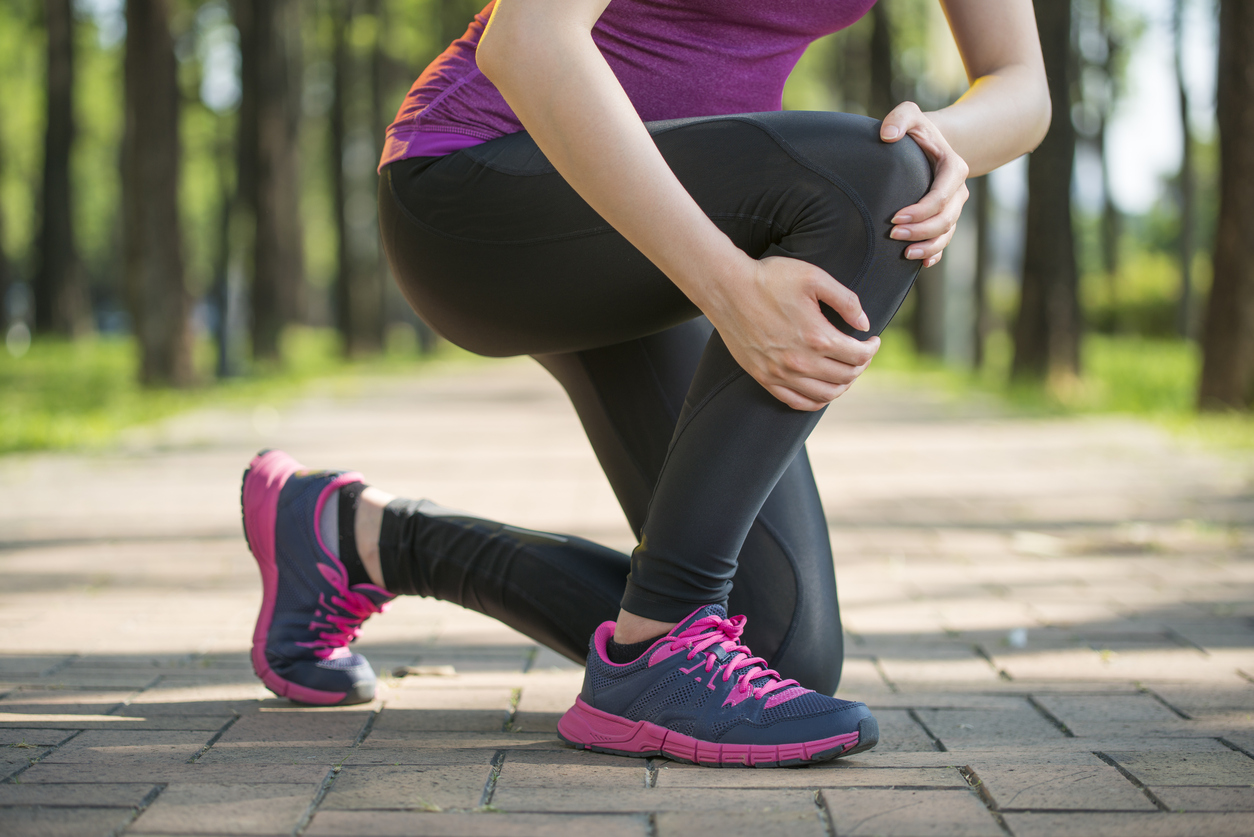 Approximately 25% of people aged over 65 have some form of arthritis.
Osteoarthritis (OA)- also known as wear and tear arthritis, is the most commonly found arthritis and the main reason for the necessity of knee replacement surgery. At present, there is no cure for OA.
OA occurs when the articular cartilage that acts as a cushion between the knee joints is worn away. Without this cushion that acts like our knee's "shock absorber", the two bones that make up the knee joint rub against each other. This then causes pain in the joint along with swelling and stiffness, and ultimately decreases our ability to move.
Increased age is a major risk factor in the development of OA – the chance of the development of OA increases after age 45, with the knee being an area commonly affected and a higher incidence in women.
This being said, young people can also develop arthritis in the knee. Younger people may be more susceptible to the onset of OA of the knee due to genetics, through being overweight or from an infection (septic arthritis) or an injury (post traumatic arthritis).
There has been an enormous amount of research undertaken on OA around lifestyle modifications to prevent its onset. Here are some action items for you to get started on that may help you to prevent OA and delay or avoid knee replacement surgery.
Weight Loss.
This is a crucial element to help avoid knee surgery as the knee is the largest joint in the body and carries nearly half of our body weight.
Shedding a relatively small amount of weight (7-10 kilos) can dramatically improve knee pain. If it happens that you still require knee surgery at a later date, the weight loss will also lessen your chance of complications and assist you with your post-surgical rehabilitation program.
Get Active.
Exercise is a key element in knee joint health. Our knees work like a hinge. We all know when a hinge isn't used it starts to stiffen and seize up – our knees are the same and depend on movement for the tissues within the joint to stay healthy. Movement keeps the joint lubricated and flexible and strengthen the muscles.
Walking is one of the safest and most effective activities you can undertake to help your knees stay healthy.
Eat Right.
There have been many studies based around food types and research has shown that incorporation of these food types will assist in the prevention of OA. Remember that fresh is best.
Foods rich in omega-3 fatty acids have been found to decrease inflammation as well suppress cytokine and enzyme production which are responsible for the breakdown of cartilage.
The anti-oxidant vitamin C. This is necessary for cartilage development and a lack of vitamin C in the diet can lead to increased symptom of OA due to weakened cartilage.
Beta-carotene is an antioxidant that helps prevent damage to joints by destroying free radicals.
Prevention is always better than intervention, but it may still be the case that at some point you may need knee replacement surgery.
The Australian Orthopaedic Association commenced a National Joint Replacement Registry in 1999. The original purpose was to collect data on almost all hip and knee replacement surgery undertaken throughout Australia, but the registry now includes information on all types of joints that are replaced with data coming from over 300 hospitals nationwide.
The registry allows knee replacement surgeons in Sydney and Australia wide to have information that enables better choices and outcomes by taking into account surgical techniques, types of prosthesis and other determining patient factors including age, sex and weight.
This ongoing study of data occurs in Australia and worldwide and is why knee replacement surgery has become one of the most successful operations performed by knee surgeons in Sydney and around the world – with studies showing a 95% success rate at 10-15 years and with some implants lasting more than 25 years.
If you would like further information on osteoarthritis or knee replacement surgery, you can visit our pages in our website or arrange for a consultation.