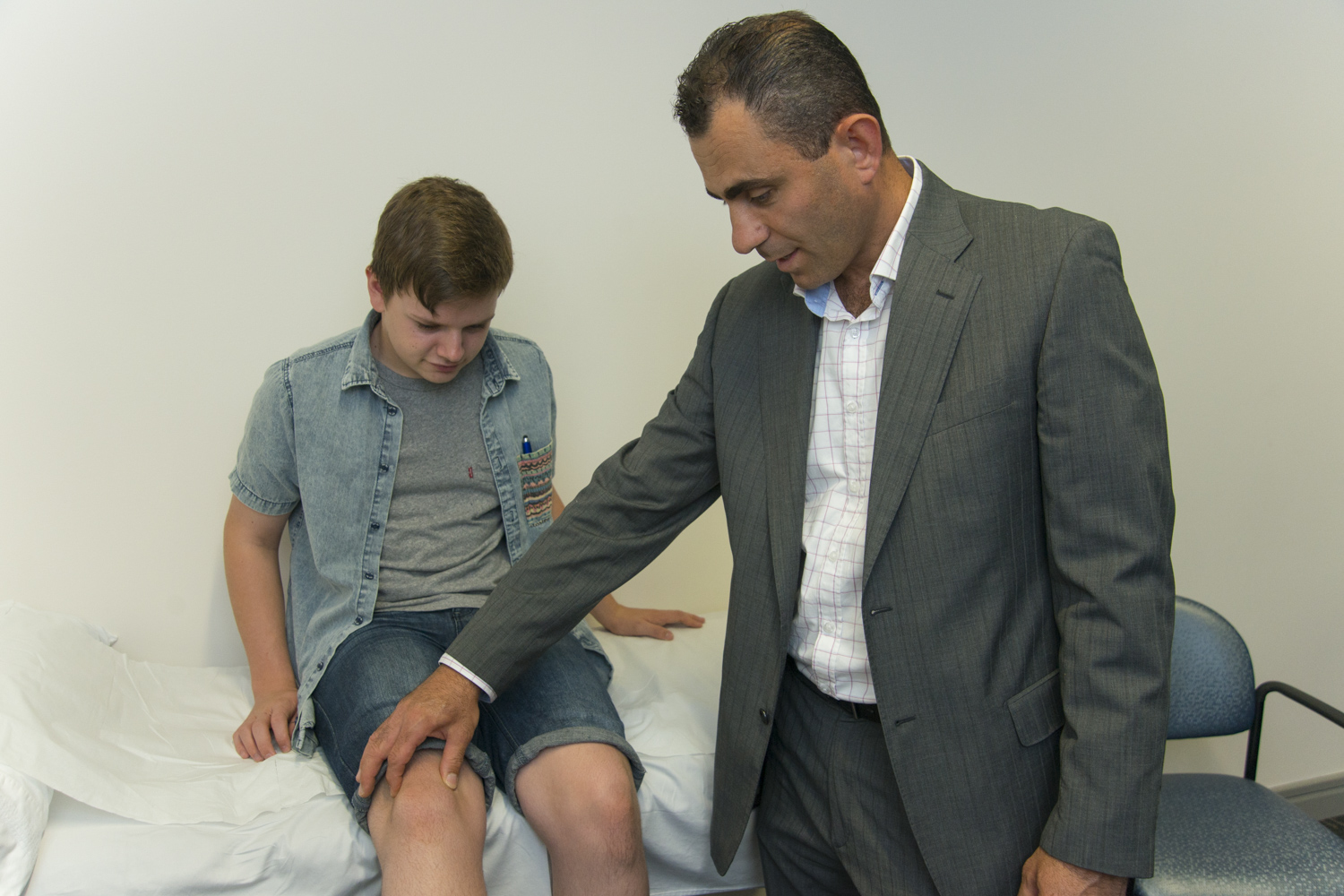 A common paediatric orthopaedic knee condition affecting children and adolescents is patella dislocation.
What is the patella?
Our knee has two main components these are the joint between the shin bone (tibia) and the thigh bone (femur) and
The joint between the knee cap (patella) and the thigh bone (femur). This is the patellofemoral joint.
It's important to ensure your child has a stable patella (patellofemoral joint). It will not only allow a return to sport but will delay the onset of any degenerative changes such as arthritis occurring as they age.
How does it dislocate?
A problem occurs when the knee cap "pops" or "slips" out of position (dislocation). This is a common acute knee injury in skeletally immature children and adolescents and often occurs during sporting activities.
Dislocations can be a result of the patella "slipping" out of place because of an abnormality in the knee structure; looser or more flexible ligaments; or from a direct blow or a fall onto the knee (this is common in contact sports such as football).
How common is it for a paediatric patella dislocation?
There is an estimated overall incidence of approximately 50 in 100,000 annually in children and adolescents with a peak at the age of 15 years and a higher incidence in females than males.
Once a patella dislocation has occurred, there is an approximate 25% chance of reoccurrence.
What are the symptoms of a patella dislocation?
Symptoms can vary depending upon how far out of place the patella has moved and the amount of damage that has occurred. There are some general symptoms that may include:
Pain and loss of function
A feeling that the kneecap has "shifted" or "slid" out of place
The knee "buckles" or gives way
A "popping" sound
Swelling of and around the knee
Change in the appearance of the knee (misshapen or deformed)
What action do you take if your child has a patella dislocation?
If your child has experienced a patella dislocation you must seek immediate treatment to have the patella put back into place. Attend an emergency hospital service – or call our rooms to arrange for access.
What is required to reposition the patella?
This will usually require your doctor to give your child pain medication to relax the knee muscles. We will then apply gentle pressure to the kneecap to move it back into place.
What is the treatment after the patella has been put back in place?
There are two treatment options: non-surgical and surgical
Nonsurgical Treatment
When the patella has dislocated for the first time the mainstay treatment methods include pain relief, weight bearing and physiotherapy.
Once the patella has recovered sufficiently for a return to exercise, benefit will be gained from exercises targeting thigh strength and stretching to help prevent future dislocations.
However, as a dislocation often causes damage to knee tissue, the resultant effect is that the patella remains looser and becomes more unstable than prior to the injury – hence the high incidence of recurrent dislocation. If ongoing dislocations occur, we may recommend surgical treatment.
Surgical Treatment
If there is ongoing patella dislocation and the patella remains unstable despite bracing and strengthening programs, we may recommend surgery.
Surgery options will vary dependent upon the cause of the instability but will usually be performed arthroscopically with additional small incisions. Surgery for a paediatric patella dislocations will often involve the reconstruction of the ligaments holding the patella in place.
If the repeated dislocation is caused by a bone deformity or other congenital reasons; a more complex surgical treatment may be required.
How can Dr Shidiak help?
Dr Shidiak is a leading specialist in the treatment of patella dislocation for children and adolescents and has provided relief and treatment for many sporting injuries in his role as the Chief Medical Officer for the Parramatta Eels and Wentworthville Magpies.
Correct treatment for a dislocated patella will mean your child is able to return to live a full and active life and continue to enjoy their sporting activities.
If you would like to discuss your child's knee condition and the possible treatment options available, please call our office on 98063333 and arrange for an appointment. Dr Shidiak will make sure you understand your child's condition and explain what treatment options available and the best option for your child.