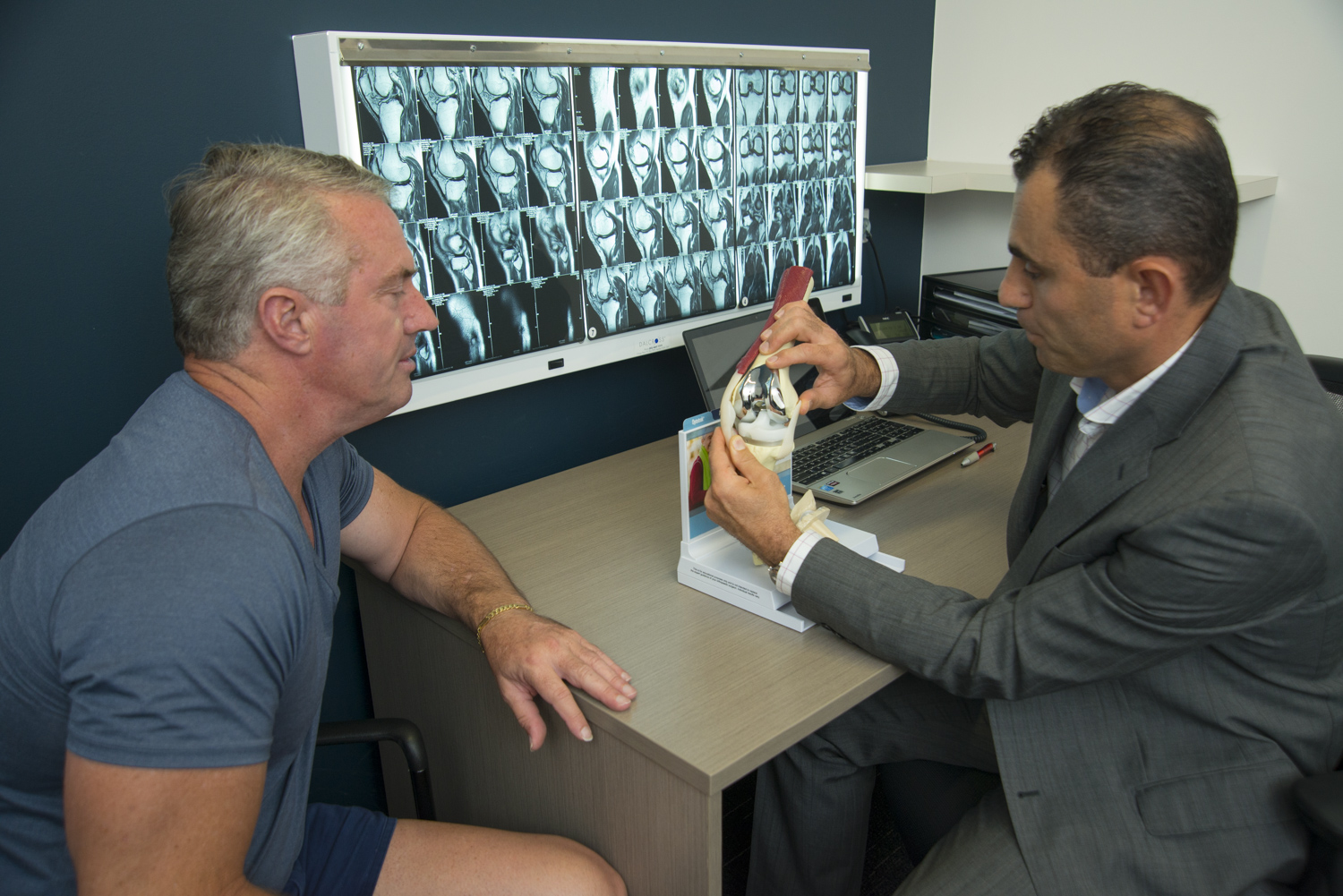 Total knee replacement surgery is now one of the most common surgical procedures and recent developments in surgical techniques and prostheses has seen great results and patient satisfaction.
What causes the need for a total knee replacement?
The main cause of patients requiring a total knee replacement is due to arthritis.
Approximately 1 in 4 people over 65 have some form of arthritis which causes the articular cartilage to deteriorate. This deterioration means that weight bearing upon the knee is no longer on smooth cartilage but on bony surface causing knee pain as well as swelling and stiffness.
What causes arthritis and what are the different types?
The most common form of arthritis is osteoarthritis (OA) or wear and tear arthritis. Some contributing causes to OA are carrying excess weight and lack of exercise which stops the joint from being lubricated.
Other forms include rheumatoid arthritis and post traumatic arthritis which is a result from a previous joint or ligament trauma.
When the joint has deteriorated to where it is causing ongoing pain and impacting on a person's ability to lead a normal active lifestyle we will recommend a total knee replacement. Surgical replacement has been proven to have high success rates in providing patients with pain relief and allowing them to continue to enjoy an active lifestyle due to restored mobility.
What is involved with total knee replacement surgery?
There have been great advancements in total knee replacement surgery. Previously, there were a limited number of prostheses available and a "closest to size" approach was taken. One of the latest innovations has been "patient specific" knee replacement surgery meaning that each knee replacement is tailored to each individual patient.
When is the right time for total knee replacement surgery?
Each patient is different and recommendations will vary according to clinical examinations and imaging as well as the level of pain being experienced, but ultimately the decision rests with the patient as to whether to proceed with joint replacement surgery.
How long will a joint replacement last?
In Australia, we have the National Joint Replacement Registry where every knee and hip replacement surgery performed nationally has been registered for 14 years. Data from the registry tell us that knee implants have a success rate of 94% at 14 years and in some instances, implants have lasted more than 25 years.
What is involved with the surgery and what is the recovery time?
A total knee replacement is major surgery. During the surgical procedure, we remove the damaged cartilage from the knee and replace the end of the bone with a prosthetic implant comprised of two metal implants with a section of highly resistant plastic in between. The prosthetic stops the "bone on bone" contact and eliminates the pressure and pain in the knee joint.
There is a lengthy rehabilitation period following total knee replacement surgery. After the surgery, the patient spends around 5 days in hospital followed by a recommended 1-2-week rehabilitation program in a specialist joint replacement rehabilitation centre.
Post operatively, most patients will need walking aides for approximately 6 weeks after surgery and are able to walk freely and regain range of motion with patients recommencing driving around the 6-week mark.
For many patients, it may take up to 6 months before the benefits of the surgery are fully realised and the knee feels close to normal again.
Although total knee replacement surgery is a major operation it is the gold standard in the treatment of knees that have deteriorated through arthritis and has proven to have great success in providing patients with pain relief as well as improved mobility.
If you would like to discuss your knee condition and what options are available to you, please call and arrange for a consultation.